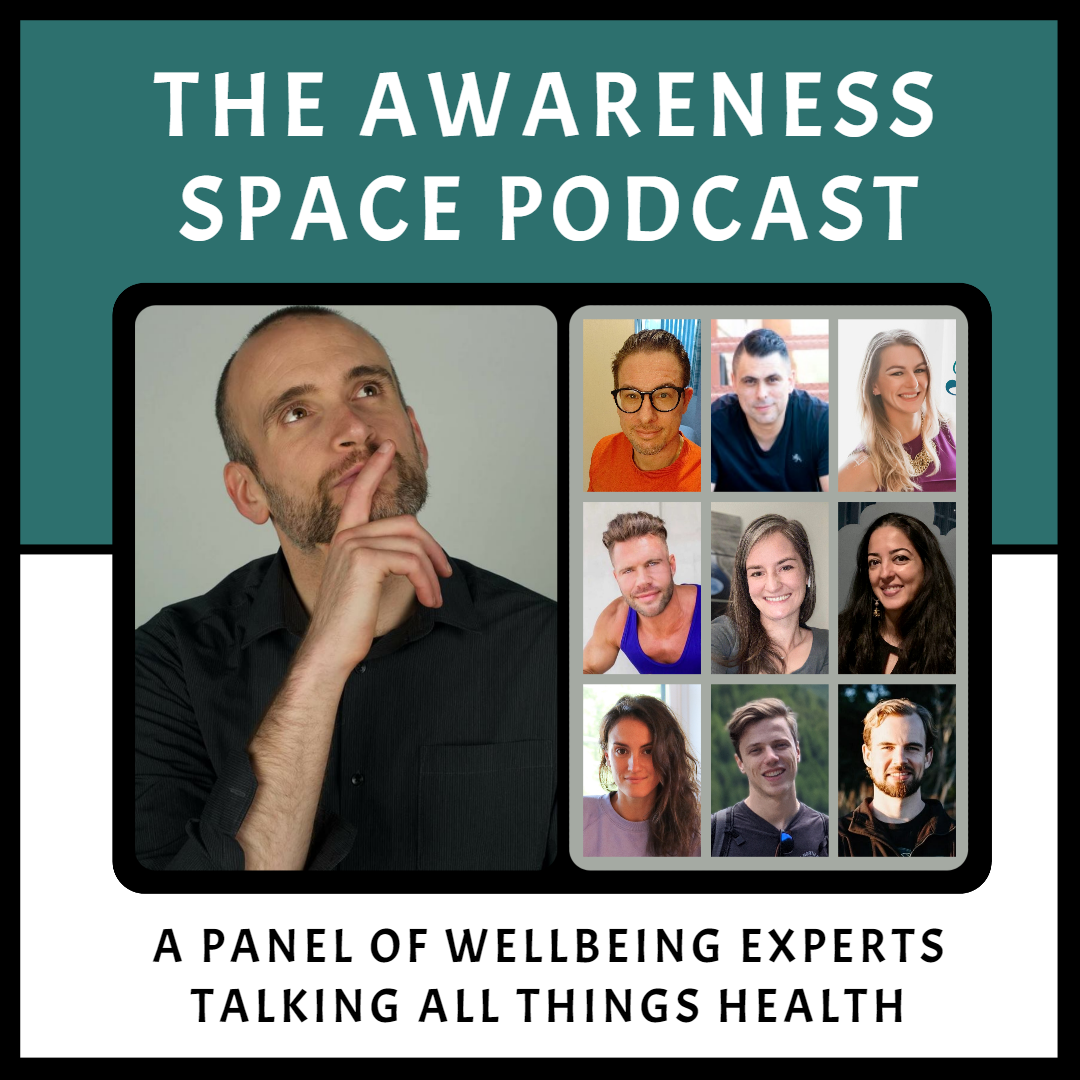 Podcast has ended but please do enjoy all the episodes. Welcome To The Awareness Space Podcast. A Podcast that dived into the 3 pillars of a happy life. Peace, Connection and Joy. Host and Wellbeing Coach Owen Morgan was joined each week by his friends to discuss what we have learnt, discovered and experienced when it comes to wellbeing. All our co-host guests are coaches. therapists or advocates from the world of health and wellness. We hope our reflections help you to find your way to more peace, connection and joy. Enjoy todays episode. This podcast and all topics covered are a not a substitute or replacement to seeking professional medical advice or therapy of any kind. Should you need further support please reach out to these services. We also have a directory of therapists and coaches on our website. Watch Owen's latest reels on Instagram and his Youtube shorts over on Youtube. For links head to the website link below. Thank you for supporting the show, Owen Find us on Youtube, Podbean, Spotify and Apple Podcast. Visit www.theawarenessspace.com for more information
Episodes
Sunday May 15, 2022
Sunday May 15, 2022
Welcome to The Awareness Space Podcast that explores human experience. In this re-release episode (originally episode 4) we sat down with our wonderful guest Reilly Scott --
Reilly shares about the impact creativity can have in a healing journey. We talk about how her song writing and performing helps with wellbeing. 
Welcome to the Awareness Space… The mental & emotional health podcast. Exploring human experience. I am Owen Morgan, a self-awareness & wellbeing coach, I focus my approach on self-awareness, self-compassion, polyvagal therapy & acceptance & commitment therapy --
We dive into how cultivating compassion, safety & nonjudgement can help create a steady, resilient & thriving life. We dive into conversation on all things, trauma recovery, consciousness, the nervous system & psychology --
We invite wellbeing advocates, therapists & those with recovery stories to share this space & inspire hope for others. Enjoy the 1-1 conversations & panel shows as we enter the awareness space --
Our Guest Details --
Reilly Scott --
Reilly is a singer songwriter who is behind this podcasts music. We use two of her songs within our productions. --
Reilly has a deep passion for self-exploration and emotional literacy, which is the foundation for the outpouring of her work. Synchronicity is what fuels her mission to call people together, eliciting healing and social change through music and the written word. Over the past decade, Reilly has had the privilege of performing her original music and poetry for audiences throughout Canada and overseas. Her albums 'Beautiful Unfolding' (2017) and 'Songbird' (2020) showcase her journey as a poet, singer/songwriter and advocate for healing through the arts.
Instagram - https://www.instagram.com/reillyscottmusic/ -
Website - https://www.reillyscottmusic.ca/  --
Facebook - https://www.facebook.com/reillyscottmusic/  --
Youtube Channel - https://www.youtube.com/channel/UCqfzXsCpSq_CZyLGKMVfv9A/videos --
Based in Canada --
More on The Awareness Space visit - https://www.theawarenessspace.com --
If you are in need of support regarding anything you have seen here today then please contact the support services listed below. You can also visit our directory of content providers who also offer a range health and wellness treatments, therapies and classes. Please contact a health professional if you need help --
UK The Samaritans - https://www.samaritans.org/, --
Mind - The Mental Health Charity - https://www.mind.org.uk/ --
USA National Suicide Prevention Hotline: 1 (800) 273-8255 National Domestic Violence Hotline: 1 (800) 799-7233 LGBT Trevor Project Lifeline: 1 (866) 488-7386 National Sexual Assault Hotline: 1 (800) 656-4673 Crisis Text Line: Text "HOME" to 741741 --
Australia Helplines and online support https://www.mhc.wa.gov.au/getting-help/helplines --
Downloadable Resources Prevent Suicide - Grassroots https://www.prevent-suicide.org.uk/ --
More afforadable Online Counseling https://www.betterhelp.com/about/ --
PODCAST DISCLAIMER - PLEASE READ BEFORE WATCHING OR LISTENING --
Welcome to The Awareness Space. As always please read the disclaimer in the description of podcast and also put yourself first as the following content may bring things up for you that feel uncomfortable. Look after you and take a break from the podcast if you need too. The videos on this channel and it's content are not a substitute for the support and guidance of a qualified health professional. We are here to share information that may be useful to our viewers and we hope you enjoy. Links to organizations that can support you are in the description. The content taken from books, blogs and articles for this video are designed to showcase the information and does not mean the authors or writers are affiliates of The Awareness Space. The views, opinions and theories shared via this video, channel and TAS as a whole do not representative of the individual views, opinions and beliefs of the narrators, producers or creators and of this channel and movement as a whole. If you would like to take part or offer content to The Awareness Space please visit www.theawarenessspace.com