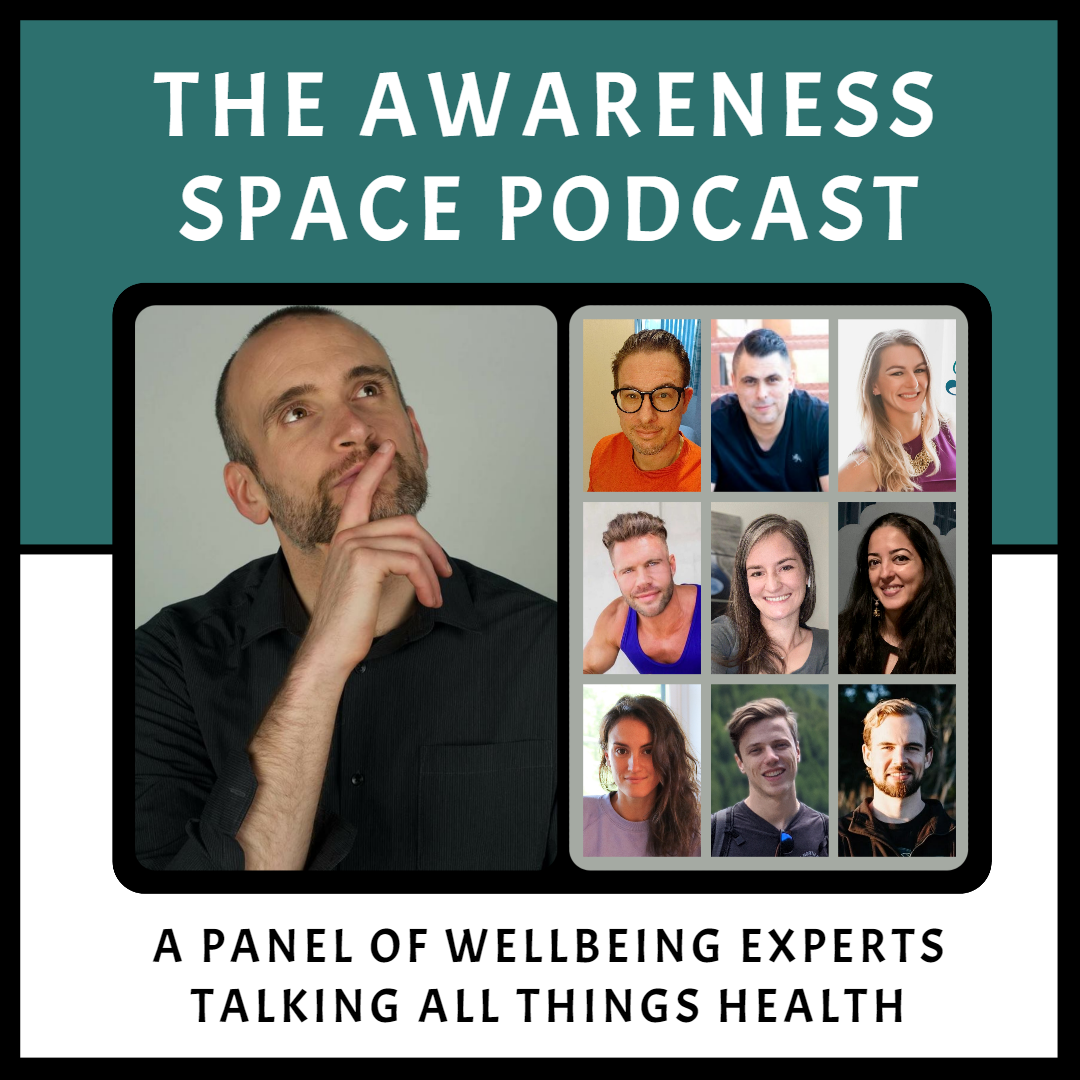 Welcome To The Awareness Space Podcast. A Podcast that dives into the 3 pillars of a happy life. Peace, Connection and Joy. Host and Wellbeing Coach Owen Morgan is joined each week by his friends to discuss what we have learnt, discovered and experienced when it comes to wellbeing. All our co-host guests are coaches. therapists or advocates from the world of health and wellness. We hope our reflections help you to find your way to more peace, connection and joy. Enjoy todays episode. This podcast and all topics covered are a not a substitute or replacement to seeking professional medical advice or therapy of any kind. Should you need further support please reach out to these services. We also have a directory of therapists and coaches on our website. Watch Owen's latest reels on Instagram and his Youtube shorts over on Youtube. For links head to the website link below. Thank you for supporting the show, Owen Find us on Youtube, Podbean, Spotify and Apple Podcast. Visit www.theawarenessspace.com for more information
Episodes
Thursday Apr 21, 2022
Thursday Apr 21, 2022
** Teaser Trailer Video https://youtu.be/4M_DUzxP9pw --
Welcome everyone to The Awareness Space Podcast Magazine Show --
In each episode we will talk about a modern issue and how we can support ourselves holistically. A deep dive into human experience.
In this episode we talk about life after the pandemic. We discuss the mental, emotional and interpersonal impact the pandemic had and how we can move forward as individuals and reconnect to what matters --
This Show Features Owen, Jason and Ewan --
More on the show -
I have brought together 4 amazing people and experts in the field of health and wellbeing to join me as we unpack topics that we hope will help you to live a full and meaningful life --
We have Adrienne Rouan who is a trauma recovery yoga facilitator and somatic experiencing practitioner, Ewan Corlett who is a person-centred integrative counsellor and men's coach. , JessicaRose Johnson who is a living works certified instructor for ASIST and Jason of we at one life coaching who is a confidence and self worth coach. I am a qualified wellbeing coach, personal trainer, massage therapist and wellbeing group facilitator --
Each episode will feature either all of us or 2 or 3 of us and we will occasionally bring on a guest -
For more on us visit https://www.theawarenessspace.com/ --
Our Panel --
Adrienne Rouan. "Adrienne Rouan is living proof that transformation and incredible comebacks are possible. Patterns of trauma and illness defined Adrienne's life for 25 years. Through discovering the power of nervous system healing, she has transformed herself from victim to educator, coach, and international speaker. She passionately shares her message that a joyful life is possible after tragedy and trauma. Instagram - https://www.instagram.com/adriennerouan/ --
Ewan Corlett. Ewan is a person-centred integrative counsellor & men's coach. Over the past 11 years he has been dedicated to healing his own traumas & developing himself as a spiritually conscious heart-centred man. He strives forward in his passion to see others overcome their deepest fears, heal their trauma to gain freedom from destructive emotional patterns & realise their ultimate truth to reach for their full potential. Instagram - https://www.instagram.com/ewan_corlett/ --
JessicaRose Johnson. JessicaRose is a US Marine corps veteran who advocates for mental health by teaching suicide intervention to first responders and speaking to schools/universities. She is a living works certified instructor and an all round amazing human. Instagram - https://www.instagram.com/rosebudcllc/ --
Jason. As a coach, Jason is here to help empower you with the confidence to change aspects of your life that you may wish to improve. He specialize in Self-Worth. How you view yourself defines how the world treats you. Jason will simply help you to believe in yourself. Using powerful questions and natural healing techniques. His goal ultimately is to empower you with progressive positive change. The Journey to you begins here. Instagram - https://www.instagram.com/we_at_one_lifecoaching/  --
Do you need support? If you are in need of support regarding anything you have seen here today then please contact the support services listed below. Please contact a health professional if you need help --
UK The Samaritans - https://www.samaritans.org/  -- Mind - The Mental Health Charity - https://www.mind.org.uk/  --
USA National Suicide Prevention Hotline: 1 (800) 273-8255 National Domestic Violence Hotline: 1 (800) 799-7233 LGBT Trevor Project Lifeline: 1 (866) 488-7386 National Sexual Assault Hotline: 1 (800) 656-4673 Crisis Text Line: Text "HOME" to 741741 --
Australia Helplines and online support https://www.mhc.wa.gov.au/getting-help/helplines  --
More affordable Online Counseling https://www.betterhelp.com/about/  --
PODCAST DISCLAIMER - PLEASE READ BEFORE WATCHING OR LISTENING Welcome to The Awareness Space. As always please read the disclaimer in the description of podcast & also put yourself first as the following content may bring things up for you that feel uncomfortable. Look after you & take a break from the podcast if you need too. The videos on this channel & it's content are not a substitute for the support & guidance of a qualified health professional. We are here to share information that may be useful to our viewers & we hope you enjoy. Links to organizations that can support you are in the description. The views, opinions & theories shared via this video, channel & TAS as a whole do not representative of the individual views, opinions & beliefs of the narrators, producers or creators & of this channel and movement as a whole.